It's no secret that "mom" isn't the most glamorous career choice. But MOM is the best "gift" you ever have. That's why mom deserves a surprised glamorous gift from you on Mother's Day!
Eco-Solvent Printable Flex | AlizarinGroup.com is the perfect media for you to create a tons of variety colors and patterns for your needs! There're many different types to choose for your personal project! I am using Glitter Silver Printable flex HTS-300SGL and the precise cutting printable vinyl HTW-300SE to do a slogan door hanging for Mom's room.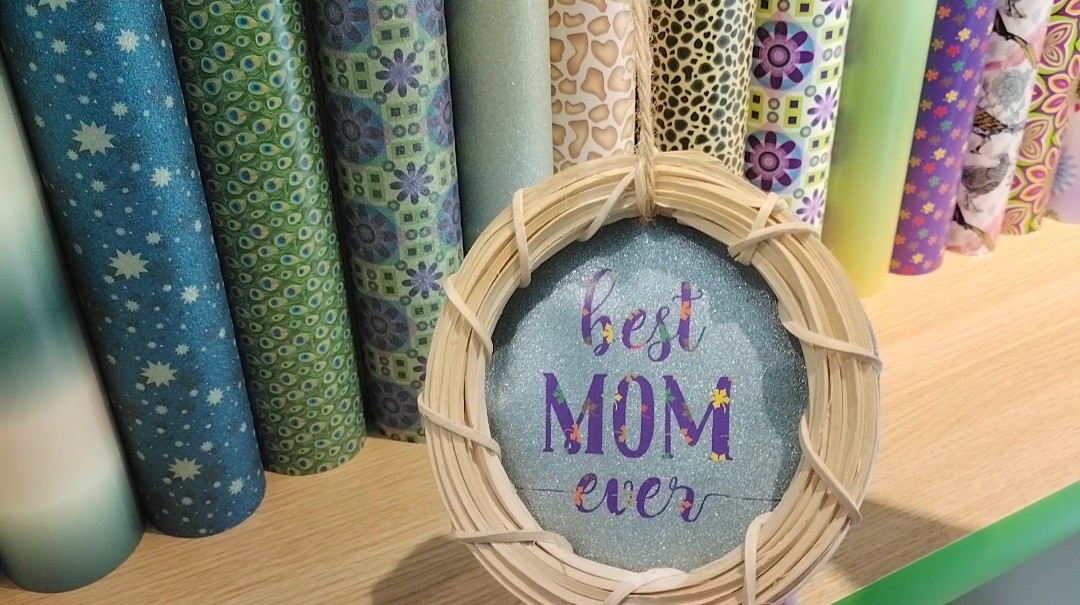 For this gradient color and maple leaves pattern, I choose it in Adobe Illustrator, and then print it out by Roland VersaCAMM Print&Cut VS-540i. You can use any printers with eco-solvent ink, mild solvent ink, UV ink, HP Latex ink, screen printing ink etc. Then I bring the words image "best MOM ever" into Cricut Design Space in order of which color HTV I am cutting.
Before, I started up the Cricut Explore Air I need put my HTV face down on the sticky cutting mat, and checked the "mirror for iron-on" check box in Cricut Design Space. But this time for this printable vinyl, I don't need do that, just put the pattern side up on the cutting mat and start cutting designs.


When weeding the printable flex, you'll feel its soft and flexible. It's great for weeding both larger shapes and words or small cut outs. You can peel and usually get the excess off in once piece. Faster weeding makes quicker production possible.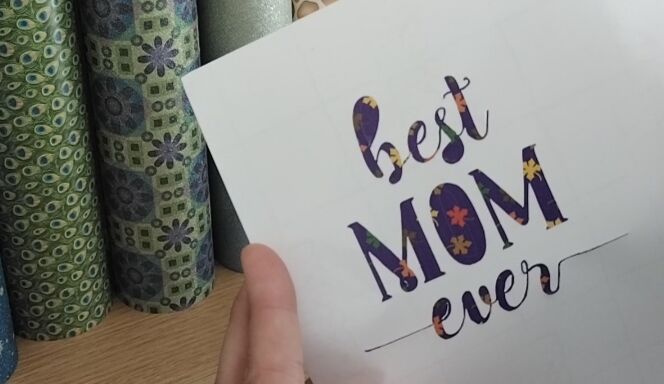 While heat apply, you want to place the design or words down in exactly the way that it was designed, so now you need a piece of Alizarin heat transfer masking tape. It's clear and sticky. Put the sticky side down on the cut design, and use a squeegee to make firm pressure to remove any trapped air creating a bond between the image and the mask. Finally lift a corner of the mask, use a steady motion to separate the mask from image.

Where is the glitter silver printable flex? Well, I was gonna transfer the words onto the white fabric, but it will look bleak, so I change my mind. I firstly transfer the glitter silver full colors onto the whole small piece of white fabric with 165℃ and 25secs. Next, I layer "best MOM ever" words over the glitter flex. Cover the design with a greaseproof paper and a white fabric sheet, same temperature and time, 165℃ and 25secs. After heat press, peel the carrier right away when it's still hot.

Give the gift of your voice "best MOM ever" this Mother's Day! Try creating your own Mother's Day gifts with Alizarin print & cut heat transfer vinyls, and when you do tag them with #AlizarinGroup.com.

To see all our materials, please visit our website https://www.alizaringroup.com/ or contact me for any free samples and price.